Flat Tube Wide Fender Flares(07-18 Jeep Wrangler JK) - ultralisk4x4
Like for Discount List
Name: Jeep Wrangler JK Flat Tube Wide Fender Flares for Jeep 
Feature
Fits 2007-2018 Jeep Wrangler JK Models

Weight: About 47 lbs
Made from Heavy Duty Stainless Steel
Provides Additional Tire Coverage; Increases Tire Clearance
Protects Your Jeep from Mud, Debris, Collisions, and Other Trail Hazards
Premium E-Coating Process for Corrosion Protection Under Normal Use
Drilling Needed. There is no drilling needed for the front fender flares but it is needed for the rear fender flares to get the screw inserts set. It is quite easy, With the help of the supplied detailed instruction, the procedure is demonstrated step by step to help you finish the installation.
Package Included
1 x Jeep JK Flat Tube Wide Fender Flares(Front & Rear Included)
Mounting Hardware
The Thickness of the Steel
It is manufactured from 5/32" mild steel plating.
The Dimension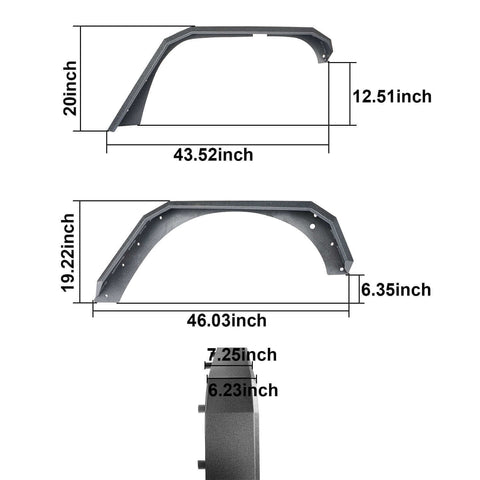 Drilling on the Rear Fender Flares:
Two holes on rear fenders can be used as-is. It will need the factory holes drilled out bigger to receive the supplied jack nuts to complete the installation. We did a nice job reusing the factory holes which aligns the fender to exactly where the hole needs to be drilled. 
Havenot finished the project didnot mention you need a blind rivet installation tool
Product seems alright at best, terrible quality control grinder marks on the outside surface of my passenger side flare. It it looks like someone slowed down a cut off wheel on it. Furthermore nowhere is it mentioned you need a blind rivet tool tool just to install.
So far. So good. Super sturdy. Customizable
So far, so good. I painted them, but didnot want to sand first. I know they will chip, but I am ok with that since I probably change up the colors frequently.
Heavy metal just like the bumper i got from ultralisk4x4 Road, it matches the modular look I have. I like them so far. There is no drilling needed for the fronts but it is needed for the backs to get the screw inserts set. I havenot installed the backs yet because I was leaving for a trip but will put them on this weekend.
Great Product requires to drill holes in back fenders
This is a great product I was surprised by the sturdiness. I am a Jeeper who doesnot really care if it is the expensive name brand but as long as it looks nice. Only thing is the back fenders require you to drill holes in the back part of the Jeep. I personally canot do this so I have to take it to a custom shop to get them placed on.Keep that in consideration.Follow @jeepingwhileblack for pictures
Looks good, install easily
Like a few others the rear fenders need a little finesse with a drill bit to fit properly they look good. Overall good purchase just be prepared for a little work to install them.