Fender Flares & Inner Fender Liners(07-18 Jeep Wrangler JK) - ultralisk4x4
Regular price

$659.99

Sale price

$529.99

Unit price

per
Sku : ULB.2005+ULB.2049+ULB.2050
Free Delivery
No shipping fees
Customer Support
Provide in-time service
Secure Payment
No worries for payment
Named: Jeep Wrangler JK Flat Fender Flares & Inner Fender Liners 

Feature
Fits 2007-2018 Jeep Wrangler JK; Do not fit 2018 JL
Front & Rear Fender Flares: About 47 lbs; Made from Heavy Duty Stainless Steel; Provides Additional Tire Coverage; Increases Tire Clearance; Protects Your Jeep from Mud, Debris, Collisions, and Other Trail Hazards; Premium E-Coating Process for Corrosion Protection Under Normal Use; Drilling Needed. Drilling is needed for the installation of the rear fenders, but it is quite easy, With the help of the supplied detailed instruction, the procedure is demonstrated step by step to help you finish the installation
Front Inner Fender Liners: About 13.2 lbs; High Strength Steel Made Of; Black Powder Coat Finish; Gravel And Muddy Water Fender; Fashion Style Design with a Jeep Star Logo and Words of 'SINCE 1941'; the White pattern is a detachable whiteboard that can be re-sprayed according to your preferences; Both Driver and Passenger Side Liners Included
Rear Inner Fender Liners: About 26 lbs; Product Dimension: 34.33" x 14.46"(Length x height); Made From High Strength Steel; Gravel And Muddy Water Fender; Black Powder Coat Finish; Decorated w/MOAB Character and the Coordinate of Latitude and Longitude; Both Driver and Passenger Side Liners Included; Premium E-Coating Process for Corrosion Protection Under Normal Use; Moderate Installation: If the rear fender hinders the installation, please uninstall the rear fender and install it
Flat Fender Flares Package Included:
1 x Jeep JK Fender Flares Kit(2 Front & 2 Rear Fenders)
Mounting Hardware
Front Inner Fender Liners Package Included:
1 x Jeep JK Front Inner Fender Liners(Driver

 

Side 

& Passenger Side Included)
Mounting hardware
Rear Inner Fender Liners Package Included:
1 x Jeep JK Rear Inner Fender Liners(Driver

 

Side 

& Passenger Side Included)
Mounting hardware
Dimensions: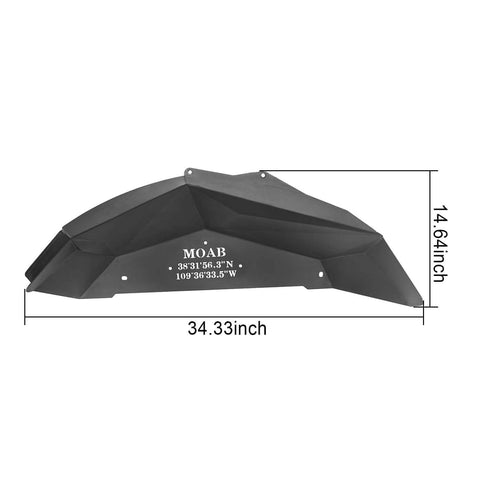 Verified Purchase
So far, so good. I painted them, but didnot want to sand first. I know they will chip, but Iam ok with that since I probably change up the colors frequently. Heavy metal just like the bumper i got from ultralisk4x4 Road, it matches the modular look I have. I like them so far. There is no drilling needed for the fronts but it is needed for the backs to get the screw inserts set. I havenot installed the backs yet because I was leaving for a trip but will put them on this weekend.
Nice product just gotta have patience when you install
Came quickly and packaged fine. No issues there. Said it only need three tools, a wrench and two allen wrenchs, well sorta. Had direction but really it is pretty quickly figured out. Direction said to do drivers side 1st. I thought that was odd but did it anyway. Glad I did cause I probably would have quit if I did the other side 1st. Alot of blind work and one part requires the hand of a child to reach the bolt where it needs to go. Beat my head on the jeep a few times but got it done..looks great. You do have to take your fender off. I had after market ones and the inner fender was already gone so that cut down on my time but doing this alone it was easily 6 hours to do both. Holes line up and work but it takes alot of work to get them there. That's what took the most time. Project it not hard just need patience and alot of time. Or maybe two guys could do it in an hour and a half like the direction said but this girl could not and I dont know many guys that have the patience.
Fantastic. Get what you pay for.
The product overall is a decent product for the amount of money that you spend. Fitment was okay. Allen button head cap screws were the worst screws they could've possibly used, I ended up using the stock 10MM bolts to mount near the fenders which worked flawlessly. Just used the allen bolts for the midsection of the liners. The packaging seemed decent when arrived. They said they were black textured,and you might even re-paint them myself.Overall you get what you pay for and they still do their job wonderfully, with a cool look. Makes the Jeep pop still and were highly affordable for their function. Would still recommend to friends.
Nice addition
I removed the stock fenders on my JK and needed inners. These look good and werenot too hard to assemble. Some skill required on install but they look good and fit great.
Customer Service on Point
Came pretty scratched up, but customer service was great. Got a decent partial refund for the damage. They are pretty thick metal and look rad apart from the damage.