Front Bumper w/Winch Plate Mid Width Bumper(18-21 Jeep Wrangler JL & JK & Jeep Gladiator JT ) - Ultralisk 4x4
Like for Discount List
Name: Mid Width Different Trail Front BumperFeature
Fits for 2018-2021 Jeep Wrangler JL Models;

It also fits 2020-2021 Jeep Gladiator JT & Jeep Wrangler JK

Weight: 68 lbs
Built-in Winch Plate for up to 12,000 lbs
Two high strength D-Ring mounts, rated at 9,500 lb. D-rings w/rubber ring for reducing friction and crashing with bumper
Strong Bull Bar
Two-Stage Textured Black Powder Coat Finish;
Heavy Duty High Strength Steel Construction
Premium E-Coating Process for 5-Year Corrosion Protection in Normal Use, Rust Protection
Simple Bolt-on Installation
2 Year Limited Manufacturer Warranty & Lifetime Customer Support
Package Included
1 x Jeep JL Front Bumper w/Winch Plate
2 x 18W Square LED Spotlights
2 x 18W Horizontal LED Spotlights
2 x D-rings w/

rubber ring

Mounting Hardware
Dimension
Adventure Styling.
Add exciting off-road styling to your Wrangler with the different trail front bumper. Designed with the adventurous off-roader in mind, this Bumper features a built-in winch plate that is capable of supporting a 12,000 lb. winch. Additional features include an integrated grille guard hoop and two high strength D-Ring mounts with 9,500 lb. rated D-Rings. Loaded with all these great features, this Jeep JL front bumper is ideal for both on and off-road use.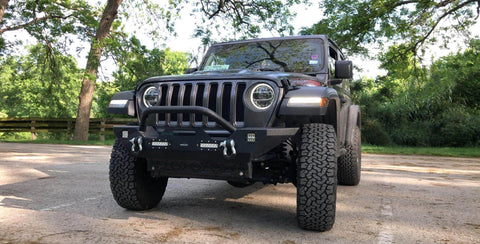 (Picture from Customer's 
Ashley K)
Heavy Duty Construction.
Designed for a bolt-on installation, this front bumper is CNC-cut, formed, and MIG/TIG-welded to perfectly fit on your Jeep Wrangler. Included D-rings are 3/4" diameter, with a 7/8 diameter pin, and can support up to 9,500 lbs. D-ring isolators are included.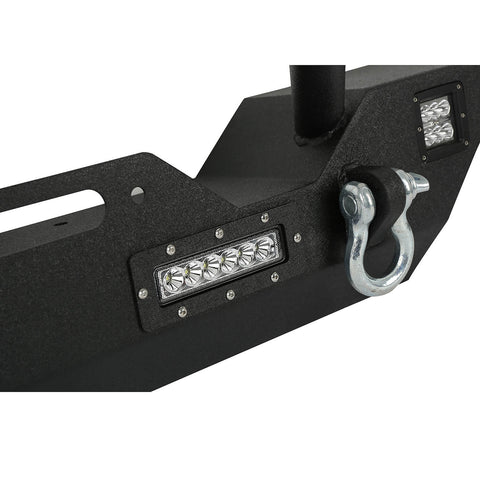 E-Coating Process.
E-coat systems can deliver a wide range of lacquer and paint finishes with a combination of state-of-the-art performance and decorative effects. The bumpers can last for 100 hours during the salt spray test which is equivalently to have a 5-year corrosion capacity. The product percent of pass reaches 100% after the salt spray test.
Easy Bolt-On Installation. Don't Need C

utting or Modifications

.
Designed the Jeep JL front bumper to be a direct bolt-on replacement for the original stock bumper. There is no cutting or modifications required for a clean straight forward install. Installation can be completed in about one hour with just basic hand tools and the help of a friend.

Buyer
Did not received wiring harness?
It is ok
I received this bumper 2 weeks ago, the fair lead plate was bent and the bolts didnot fit to attach it to my Jeep. But got some discounts for it.
First time out the over bar creased and the bumper twisted and Pushed up on a very low speed impact
(10k/h no air bag deployed)
The fair lead plate smashed into my winch
For the Price of it, the bumper did its job. I just wish it was a little more heavy duty
Excellent product!
The product came well packaged. Lights are extremely bright and I wouldnot recommend them unless your off-road or on lone stretches of highway or you like every 3rd car flashing their lights at you. Wired all the lights together and spliced them into the end of the old wiring harness. Plenty of videos online on how to take off your stock bumper. Actual installation of the new bumper is 6 nuts and 2 bolts and is simple. This bumper is 20lbs heavier than stock ones.
Amazing product!
Love this bumper!Quality was there and for the money, you cannot beat it. Quick reply. They sent the instructions to me with email! THANKS.
Sharp
Very well made, sturdy, awesome