V8 GOD Roof Rack w/LED Lights Support Shark Fin Antenna(05-21 Toyota Tacoma Double Cab 4 Doors Gen 2/3)
Like for Discount List
Name: 4 Doors Toyota Tacoma Roof Rack w/LED Lights Support Shark Fin Antenna

Feature
Fits 2005-2021 Gen 2 Gen 3 Toyota Tacoma 4 Doors Double Cab Models 
Carrying Capacity(Evenly Distributed) of Up to 330 Pounds
Measures: About 45" Width in Front End,42.3" Width in Rear End and 58.5" length
Weight: About 60 lbs
Texured Black Powder Coat Finish
Aerodynamic Style Complements Truck Exterior
Compatible with Rear Car Antenna
Provides Extra Exterior Cargo Space
Heavy-Duty, High Tensile Steel Construction
Premium E-Coating Process for 5-Year Corrosion Protection Under Normal Use
Moderate Bolt-on Installation
Package Included
1 x 4 Doors T

oyota Tacoma 

Roof Rack
4 x 18W LED Lights
Mounting Hardware
Application. The Tacoma 4 Doors Off-Road Roof Rack Luggage Carrier Rack is specifically designed to be used on the 2005-2021 Toyota Tacoma Double Cab models.
Fitment for 2005/2006/2007/2008/2009/2010/2011/2012/2013/2014/2015/2016/2017/2018/2019/2020/2021 Toyota Tacoma 4-Doors (Toyota Tacoma Double Cab)
Dimension 
Measure: About 45-Inch Width in Front End,42.3-Inch Width in Rear End and 58.5-Inch Long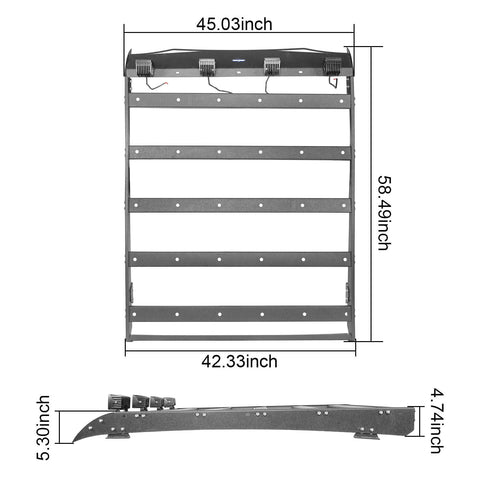 Excellent Extra Storage Space.
When extra rack cargo space for your Toyota Tacoma Double Cab is absolutely needed, you can rely on this Track Rack. It provides a large space for all the extra gear you need to bring along in your next road trip or trail adventure. With its secure design, you can place your cargo on it with great confidence.
Durable Steel Construction.
This Tacoma Half Roof Rack Luggage Carrier Rack Cargo Carrier is built from heavy-duty steel to ensure maximum durability against heavy loads. It is coated with a durable black powder coating to ensure lasting protection against corrosion.
Tough and Black.
This Toyota Tacoma Roof Rack Luggage Carrier Rack Cargo Carrier is crafted using high-quality materials with a remarkable lightweight strength. It comes in a bold, black powder-coated finish for absolute protection from abrasion, corrosion, and other damages typically experienced in dynamic off-road adventures. 
Simple to Install.
This Toyota Tacoma Top  Luggage Carrier Cargo Rack is designed for a simple, hassle-free installation with no drilling necessary. It fits perfectly well with your vehicle's roof and installs with light to moderate mechanical skills and basic hand tools required.
High-Quality Load Carrier. Boost your Toyota Tacoma Double Cab's storage capacity, functionality, and overall style by installing the Off-Road Roof Rack. This trail rack offers a stylish and tough platform for transporting your various outdoor gears on your Toyota Tacoma Double Cab's roof. It is fittingly configured to match your vehicle's appealing exterior with its sleek, aerodynamic design.
Nice rack
Heavy duty rack, simple install. Some wind noise even with reducing seal from prinsu.
Will also have to purchase wiring harness and switch for lights. Overall nice rack for the money
Very sturdy and looks as good as the competition
The company took a while to ship due to the Covid-19 but I was constantly in contact with them. They did their best with something that was out of their control being a world wide pandemic. Besides that this product is a great rack, very sturdy as I have walked in it to test it out. It can definitely handle a a 200lbs guy walking on top. Also the lights are a plus! At first I didn ot want to put them on top as I thought they would look tacky but I just drank the kool aid and wired everything. I think the lights look sick and old school while still being new LED's . And if they go bad which they probably will I probably just throw on some other reputable brand. Overall I love this product for the price. If it's in stock don ot wait just buy trust me
Looks amazing
Solidly built, looks great and will do the job perfectly!
It screwed my paint up
The wife ordered the 3rd gen shark fin they sent me the second gen after installing it and the front brace was vibrating so bad that it wore the roof paint down to bare metal so now I'm left with a giant fish weight and bare metal on my roof.