How To Remove your Dodge Ram OEM Front bumper?
We pride ourselves on having a wide selection of high-quality bumpers.  A front or rear bumper is one of the easiest ways to completely change the look of your vehicle and give it that of kind appearance you have been after.  However, when you wanna upgrade your Dodge Ram Front bumper, you need to remove the factory bumper from your Vehicle.  Let Talk about how to remove your Dodge Ram OEM Front bumper!
For this install, you will need an impact gun or a ratchet will work just fine,  18, 10, and 7-millimeter sockets. You may want a small extension and a swivel,  the included Allen key, and 13 and 16-millimeter wrenches. Most bumper does feature a direct bolt-up install.  So you will have to either trim or remove your wheel well liners so they don't hang down.  All in all, Removing the factory front bumper can be done within one hour.
1. The first step in this uninstall with the hood popped.
You will have to remove your radiator support cover. (Sorry. Our Dodge Ram does not currently have one) After that, please grab a 10-millimeter socket and remove the four bolts holding on the top of the grille.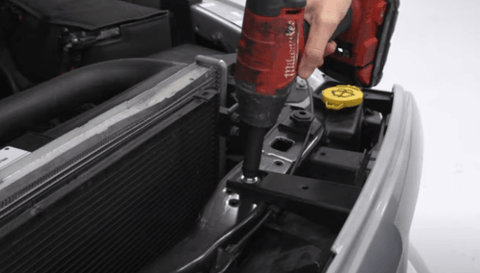 With all the bolts removed, lift up on the brackets on the grille, slide it off your truck,  grab the bottom and pull straight towards you.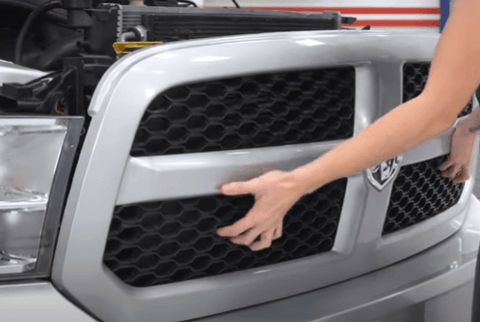 2. In the second step, you need to remove three of the bolts holding the front bumper to the wheel well liner.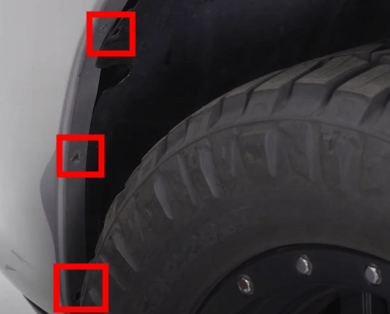 Grab your 7-millimeter socket and remove bolts.  Please make sure that you have all three of them out.
Then you need to go to remove this 7-millimeter bolt as well so you can peel back the wheel well liner and have a bit more room.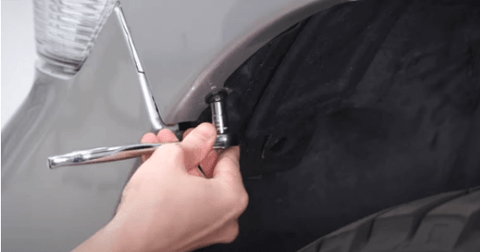 With the wheel well liner pulled back, you can see the bolt that holds on the fender to the bumper.  It is pretty long and it's in a precarious location.  So you're going to need a small ratchet or even a ratcheting wrench, 10-millimeter. If you like, you can take the headlight out to get a little bit better access, but if you're cool to use a small tool, you can get to it right from the wheel well.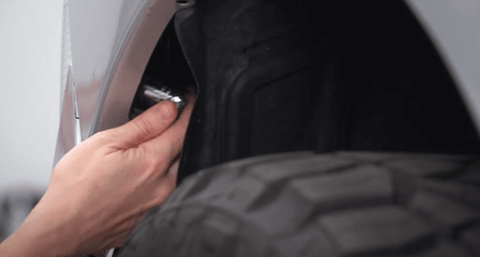 3. Third, please kindly repeat that process on the other side. (please double-check the second step)
4. Fourth, let's start to remove the nuts that hold on our bumper to the frame.

We're going to need to use a wrench on the backside here.  Please grab your 18-millimeter socket and remove these.  Now, you may want a swivel socket for some of these to be able to get a good angle on your nut.
The last one is a little bit higher up, so you need to use a ratchet because the gun does not fit. It also maybe a little bit hard to see. But it's the same concept as the other three you just took out.  Grab your 18-millimeter socket and repeat that process on the other side. ( You can use a swivel for this one. It's a little bit easier.)  And make sure your bumper is supported so it does not fall when you take out the rest of the bolts. Finally, the last nut all the way up the top.  We're going to grab a ratchet for this one and remove it.  
Finally, make sure you unplug the fog light harness. Press down on the gray tab and remove it.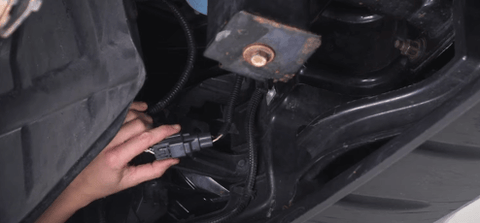 5. Fifth,with all of those bolts removed, you can grab your bumper.  
You may want a friend for this step to help you out and slide it off the truck. With the bumper cover removed, you can now grab the bumper itself and pull it off of your truck. 
6. Sixth, We do have to remove these plastic pieces underneath the headlight. 
There are three bolts, one on the inside, one underneath, and one to the side,  so grab a 10-millimeter socket, and I do have a small extension to get these removed. Then you can repeat that on the other side.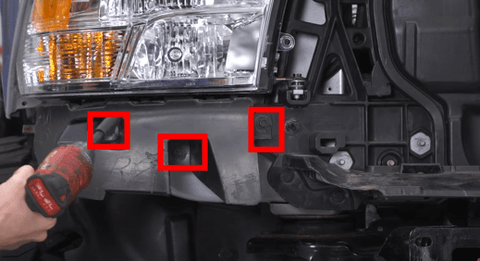 7. Finally, we have to remove this center support piece.
There are two bolts on either side. Grab your 10-millimeter socket and remove them. And repeat that on the other side.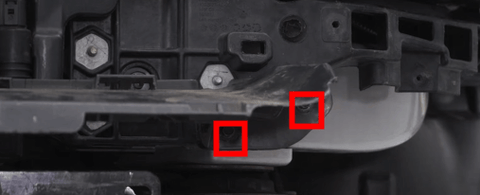 Following these steps, we believe that you have our factory bumper uninstalled from your truck.