Different Trail Rear Bumper w/Tire Carrier & LED Floodlights(07-18 Jeep Wrangler JK) - Ultralisk 4x4
Like for Discount List
Name: Jeep Wrangler JK Discovery Different Trail Rear Bumper

Feature
Fits 2007-2018 Jeep Wrangler JK Models; Do not fit JL
Heavy Duty 3/16" Steel Plate Construction
D-Rings w/Rubber Rings to Provide Extra Protection Against Abrasion
Two 3/4" D-Rings and 2" Hitch Receiver that is rated at 9,500 lb
Accommodates Up to a 37" Tire
2" Standard Hitch Receiver

Bumper Weight:

108 lb;

Tire Carrier Weight:

36.3 lb

The Tire Rack is Opened with Door

Perfect for Off-Roading Protection
Moderate Bolt-on Installation w/Clear and Detailed Instruction
Premium E-Coating Process for 5-Year Corrosion Protection in Normal Use
2 Year Manufacturer Warranty & Lifetime Customer Support
Package Included
1 x Discovery Different Trail Jeep JK Rear Bumper w/Tire Carrier
2 x D-Rings w/Rubber Rings
2 x 18W LED Floodlights
Mounting Hardware
Dimension
Perfect For Off-Road Use.
Featuring a 2-inch standard hitch receiver, 2 high strength D-Ring mounts and a spare tire carrier, the Jeep JK Rear Bumper with Tire Carrier is perfect for off-road use. The Jeep JK Rear Bumper with Tire Carrier features a swing-out spare tire carrier with an adjustable mount making it perfect for tires up to 37 inches. It has a newly designed lock securely locks the tire carrier in place, so there is no worry of it coming loose on the trail.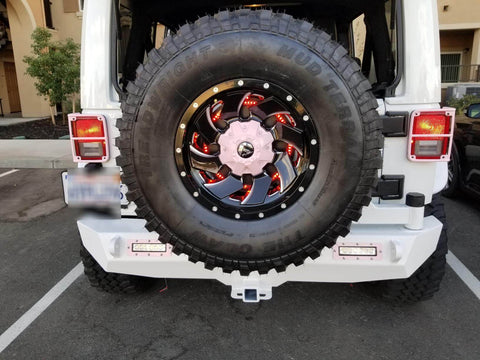 (Thanks for Alex's DIY)
Solid Construction.
Designed for a bolt-on installation, this rear bumper is CNC-cut, formed, and MIG/TIG-welded to perfectly fit on your Jeep Wrangler JK.
Bumper
Not a bad piece seems solid. Mounted easily. Id like to see some kid of gasket or bottom seal for the bearings on the swing arm as Im sure the grease I packed into them will be all over the bumper soon enough. Also I had to clearance the arms that connect the swing arm to the door. They didnt clear the bracket. Other than that installed it smoothly by myself. Have a big rock crawling trip coming up next weekend well see how it holds up.
Make sure tail gate clears
Easy install and is very functional!
Good Bumper and tire carrier for the money
Good Bumper and tire carrier for the money. Was pretty easy to install. Did not have any powder coating chipping issues in shipping like some did.Also got instructions in paper form that was in the box with the bumper and also got them by email in pdf form. Install time for me was all day because I took my time. But it should take the suggested 2-3 hours to install. It handles the 20 inch rim and tire with easy and there is a more adjustment for even bigger tire like a 37. I like the fact that now the tire is not hanging on the tailgate and is now held up and on by the tire carrier and bumper.
Great bumper for the price but you get what you pay for
I was emailed instructions and the box also contained a copy...a little more detailed instructions would have been great though. Good quality easy install took some trial and error to get it adjusted properly to make it stop rattling but I eventually got it right and it makes no noise now with my 35 tireI would suggest replacing the hardware with stainless because some of the bolts are showing rust and it only been two weeksThe powder coating is just if you slam or scrape a rock it will take off the first layerAll in all price and strength its a good tire carrier and bumperThe reverse lights are good time will tell if they will fill with water looks like a cheap brand but I could be wrong