What kind of side steps is a good choice for you?
What kind of side steps is the good choice for you? We're talking about these side steps categories to help you determine.
Running Boards
First of all, we have one of the most popular choices on our website (ultralisk4x4.com ), Running Boards, which is being rugged off-road appearance with delicate "SINCE 1941" logos.
Utility and ease of use are the big reasons why you'd want running boards like this. It has a ton of area to plant your foot pretty much all the way up and down the board, not like a nerf bar. It is able to accommodate wherever you need to step. Typically running boards are made of heavy-duty steel. They offer you a ton of depth on the step area with this one being almost 5.6 inches. Just like nerf bars, these are budget-friendly and easy to install choice. Also, running boards will tend to sit a little tighter to the body of the Jeep, cleaning up the looks by covering that pinch weld. This will do a good job at preserving some of that break over angle, but the stepping area will tend to sit a little bit higher up than other choices.
If you are interest in this running boards for jeep wrangler 4 door , please kindly click the link.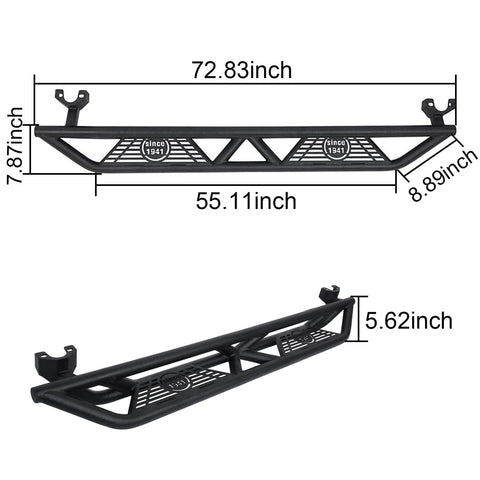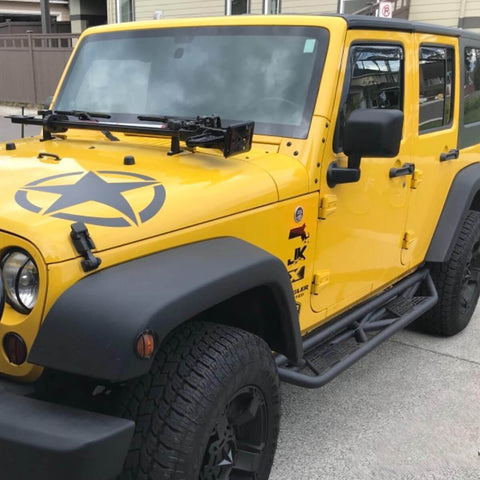 Drop Step
That issue of high stepping area can be remedied with our next category, the drop step.
As you guys could probably tell by the name, these are gonna feature a drop step design which will provide easy entrance and exit on your Jeep since that stepping area is gonna be a little bit closer to the ground. Usually, these feature a textured stepping area that ranges anywhere from 3 to 6 inches deep. This one on the Jeep right now is the ultralisk4x4 jeep wrangler drop steps and they fit the bill perfectly for a drop step. As you can see, they also boast a relatively middle ground 4 inches of flat stuffing surface. Obviously, this design is going to come with the tradeoff of a break-over angle. If you're the daily driver, it is not a big deal. If you're the off-roader type, make sure to consider that. This will affect your off-road experience. If you do have a huge lift and you're looking to trade some of that clearance for an easy step, these are gonna be great.
In a word, please keep in mind that drop steps are not designed for off-road impacts, although drop side steps do boast an aggressive appearance. The drop step would be an awesome choice if you're gonna prioritize easy entry and exit over the ultimate off-road clearance.
If you are interest in this jeep wrangler hoop steps , please kindly click the link.